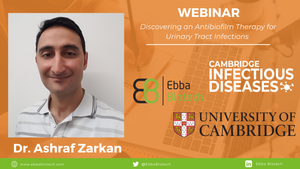 We are circling back to EbbaBiolight! This time we have an exciting new speaker for you - Dr. Ashraf Zarkan from Cambridge University. Be sure to tune into our live webinar on May, 5th at 2pm CEST.
In this webinar, you will learn how a collaboration between the University of Cambridge and Ebba Biotech AB successfully confirmed the antibiofilm properties of a set of novel inhibitors in clinical strains of uropathogenic E. coli. The current focus is in optimising these hits and completing pre-clinical development to be able to move further into clinical trials.
Do you want to learn more about Dr. Zarkan and his work? Follow this link.