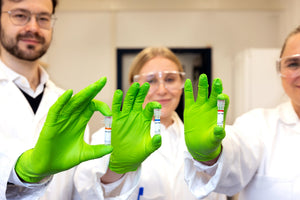 Earlier this year, we took a significant step forward by expanding our product series to include DMSO as a solvent for some of Ebba Biotech products, alongside our trusted ultrapure water. Wondering why? Let us fill you in!
💡 Expanding Horizons: With DMSO, we are expanding our application areas to include organic solvents. This minimises any limits on researchers wanting to test different solutions.
🌡 Extended Shelf Life: Our shelf life is improving! As is common with ultrapure water in small volumes - there is always a risk for evaporation. With DMSO we eliminate this risk ensuring maximum quality for a longer period of time.
Have any questions about which solvent is right for you, or curious to learn more? Feel free to reach out to us here
We are here to support your research needs! 🔬🧪💼