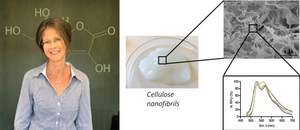 Do you want to learn more about Carbotrace and its various applications? Be sure to tune into our live webinar on February, 24th at 11am CET.
Our guest speaker for this webinar is Professor Ulrica Edlund from the KTH Royal Institute of Technology in Stockholm, Sweden. Her presentation about a "Selective method for spectral identification and recovery of polysaccharides from biorefining" will explain how she uses optotracers like Carbotrace in her research to discover & characterise renewable resources for biorefinement. As a leading researcher in her field, Prof. Edlund contributes to reach UN sustainability goals by paving the way for a greener future moving towards renewable materials and circular economy
(Image: Professor Edlund (left) focuses her research on paving the way for a circular economy by discovering and characterising sustainable materials from renewable resources. Her latest work describes a process to recover cellulose of high purity from green macroalgae. Characterisation of the produced cellulose nanofibrils (left) was aided by the novel optotracing technology (image from Wahlström et al., CC BY 4.0).).
Learn more about Professor Edlund's research on our website here.