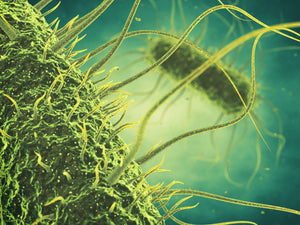 A 2016 study by the Swedish Medical Nanoscience Center at Karolinska Institutet used an EbbaBiolight-like Molecule to detect growth of Salmonella biofilm. This unique fluorescent tracer molecule is non-bactericidal and is therefore capable to dynamically follow the formation of curli fibres and cellulose in Salmonella enterica biofilm in real time.
In the scientific study, wild-type Salmonella enterica serovar Enteritidis (S. Enteritidis) producing both cellulose and curli in its extracellular matrix (ECM) was compared to isogenic mutants of S. Enteritidis lacking cellulose, curli or both ECM components.
Visualization of the ECM components curli and cellulose during growth in liquid medium is not possible with standard methods. Furthermore, the commonly used rdar morphotyping technique on agar plates requires at least 3 days of incubation and use of toxic chemicals.
In contrast, by adding the EbbaBiolight-like fluorescent tracer molecule to the liquid culture, it becomes possible to track the production of cellulose and curli while the culture is still undergoing exponential growth and later entering the stationary phase (0-48 h). On agar, biofilms containing cellulose and/or curli were identified already after 24 h of incubation.
The EbbaBiolight-like molecule used in this study is a fluorescent tracer molecule that becomes highly fluorescent when binding to its target. Therefore, no washing is required in this procedure. The fluorescence spectrum is acquired using a plate reader or a fluorescence microscope. An increase in fluorescence and a shift in the maximum emission wavelength is used to indicate the presence of cellulose, curli or both ECM components in the biofilm.
The researchers demonstrated that the molecule can be used to study biofilm formation in liquid cultures and on agar plates. They also showed applications to visualize surface-bound biofilm formation at the air-liquid interface, intracellular biofilm in macrophages in a cell culture infection experiment and even in infected liver tissue.
This shows the versatility of EbbaBiolight for biofilm identification and visualization in liquid, cell culture infection experiments and even in infected tissues. Due to its unique properties, EbbaBiolight can be used to not only identify, but also to track biofilm formation and composition in various conditions. This marks EbbaBiolight as an excellent tool to investigate biofilm composition and dynamics as it has not been possible before.
If you always wondered what Biofilms are and why its important to being able to see them, you can watch our founder and chairman Professor Agneta Richter-Dahlfors' descriptive interview about Biofilms on Swedish National TV program "Godmorgon Sverige" on SVT.
Read More: